Growing up, I remember seeing a dry palm leaf that had been twisted into a cross sitting over my grandparents' entryway of their home.  It was there for years, and I suspect it might still be there after my grandmother sold her home (through what I'm sure was divine intervention!).
The symbolism of the palm leaf is of course taken from 
Mark 11:1–11, Matthew 21:1–11, Luke 19:28–44, and John 12:12–19, when Jesus rides his last triumphant journey into Jerusalem on a donkey.  This is his last excursion before he is sacrificed on the Cross.  As he and his donkey ride into the city, the people rush out to greet him, and they lay out the palm leaves in his path.  They basically roll out the proverbial red carpet for him.  
By the way, did you know that in that culture, what type of animal a king rode upon when he entered a town actually had significance?  A horse was a representative of war, and when a king rode a horse into town, he was basically declaring war on the town.  However, Jesus rode in on a donkey, a symbol of peace.  
Palm Sunday is an excellent opportunity to discuss with children the love of Jesus and the importance of his sacrifice.  Spend some time today making memories with your children.  After service, discuss the events that happened on this day all those years ago.  Tell stories about Easter traditions in your home.  Write thank you letters to Jesus.  If you're interested in making a palm cross yourself with your family this lovely Palm Sunday afternoon, here is a very
clear set of instructions
!  If you make it small enough, you could even wear it on a piece of cord as a necklace or pendant (careful, it may get brittle!)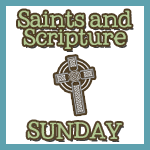 Go check out some other lovely discussions on faith and those
who have committed themselves to the story of Jesus!  
3 Comments